Understanding the Durability and Longevity of Glazed Porcelain Tiles
---
---
Why Choose Glazed Porcelain Tiles for Your Flooring Needs
Glazed porcelain tiles are an ideal choice for flooring needs. They offer a number of advantages over other types of flooring. Glazed porcelain tiles are highly durable and resistant to scratches, abrasion, and staining, making them a perfect choice for busy areas that are prone to wear. They are also very easy to clean and maintain, as they have a smooth, non-porous surface that dirt and dust have difficulty adhering to.
In addition, glazed porcelain tiles come in a variety of beautiful colors and patterns, allowing you to customize the look of your floors. The glazed surface also adds a reflective and shiny finish that can add a lot of character and depth to your flooring. Glazed porcelain tiles can also be used in wet areas like bathrooms and kitchens, as they are made from a pressed clay mixture that is fired at a high temperature making them extremely resistant to moisture.
Glazed porcelain tiles are also a more cost effective choice than hardwood and other types of flooring, allowing you to get the look you want without breaking the bank. They are also very heat and sound resistant, making them a great choice for any space that may be exposed to high temperatures or loud sounds. Lastly, glazed porcelain tiles are a great choice for people suffering from allergies, as they do not harbor dust particles and pet dander.
Exploring the Versatility of Glazed Porcelain Tiles in Interior Design
Glazed porcelain tiles are quickly becoming a popular material in interior design projects. Able to be used in a variety of ways, they provide a variety of advantages: they are durable and long-lasting, come in a variety of styles and types, and are hygienic and easy to clean. In this article, we'll explore the versatility of glazed porcelain tiles in interior design and how they can be used to create unique and beautiful spaces.
Glazed porcelain tiles can be used in a multitude of ways, both on walls and floors. Their slip-resistant surface makes them perfect for wet areas, such as bathrooms and kitchens, while their glossy finish is often used in living rooms and bedrooms alike, adding elegance to any room. Moreover, the wide range of styles that glazed porcelain tiles come in make it easy to find one that fits the project's aesthetic–from classic designs to contemporary styles, there are designs to suit all personal style preferences.
In addition to being decorative, glazed porcelain tiles offer many functional advantages. their stain-resistant surface allows for easy cleaning while still retaining a polished appearance. Their durable material can withstand heavy foot traffic as well as the wear-and-tear of everyday use. Moreover, their hygienic surfaces prevent the growth of bacteria and mold, making them a safe and healthy choice for any home.
Due to their versatility and durability, glazed porcelain tiles make a great choice for any interior design project. With a range of styles and types to choose from, they are sure to add value to any space. From walls and floors to pools and spas, glazed porcelain tiles can be used in a multitude of projects to create a unique and beautiful aesthetic.
What are the Maintenance Tips for Glazed Porcelain Tile Floors
1. Vacuum your tile floor frequently using a soft-bristled brush attachment to remove dirt and debris that can accumulate over time.
2. Sweep or mop your floor daily with a warm water and mild detergent solution, or a specialized tile floor cleaner, to help prevent dirt and residue build up, and help maintain the appearance of your tile floor.
3. Immediately wipe up any spilled liquids, such as wine, juice, water, etc. using a clean cloth or paper towel to help avoid staining.
4. Re-seal your glazed porcelain tile floor every few years to help protect it from dirt and grime buildup, and help maintain the shine.
5. To remove stubborn spots or stains from your glazed porcelain tile floor, scrub them using a little baking soda and warm water mixed together.
6. To buff out scuffs or scratches, use a damp cloth with a cotton ball dipped in a light, non-abrasive cleaning solution.
7. Do not use steel wool, scouring powder, or any harsh cleaning chemicals on your glazed porcelain tile floor, as these can damage the tile.
How to Select the Right Glazed Porcelain Tiles for Your Project
1. Consider the intended use of the space. Glazed porcelain tiles come in a variety of finishes, colors, and textures, so it's important to think about the type of tile that best suits the intended use of the space. For instance, a textured tile might work well in a bathroom while a glossy tile might work better in a kitchen.
2. Determine the size and shape of the tiles. Glazed porcelain tiles come in a variety of sizes and shapes, so consider which tiles will work best for the project. For instance, a larger size may be better for a larger space and a smaller size might work better for a smaller space.
3. Choose the desired look. Glazed porcelain tile comes in a variety of colors and finishes, so consider the look you want for the space and select tiles that match that look. For instance, a matte finish might work well in a living room and a high-gloss finish might work better in a kitchen.
4. Consider the installation process. Depending on the size, shape, and type of tile you select, the installation process may vary. If you're unfamiliar with tile installation, it's best to consult with a professional who can provide guidance on the right tiles for your project and the proper installation techniques.
5. Consider the budget. Determine the budget for the project and select tiles that work within that budget. Keep in mind that the cost of tiles can vary significantly, so it's important to compare products to find the best value for your project.
By following the tips above, you can select the perfect glazed porcelain tiles for your project while staying within your budget. With careful selection, these tiles can transform any space into a beautiful and functional living area.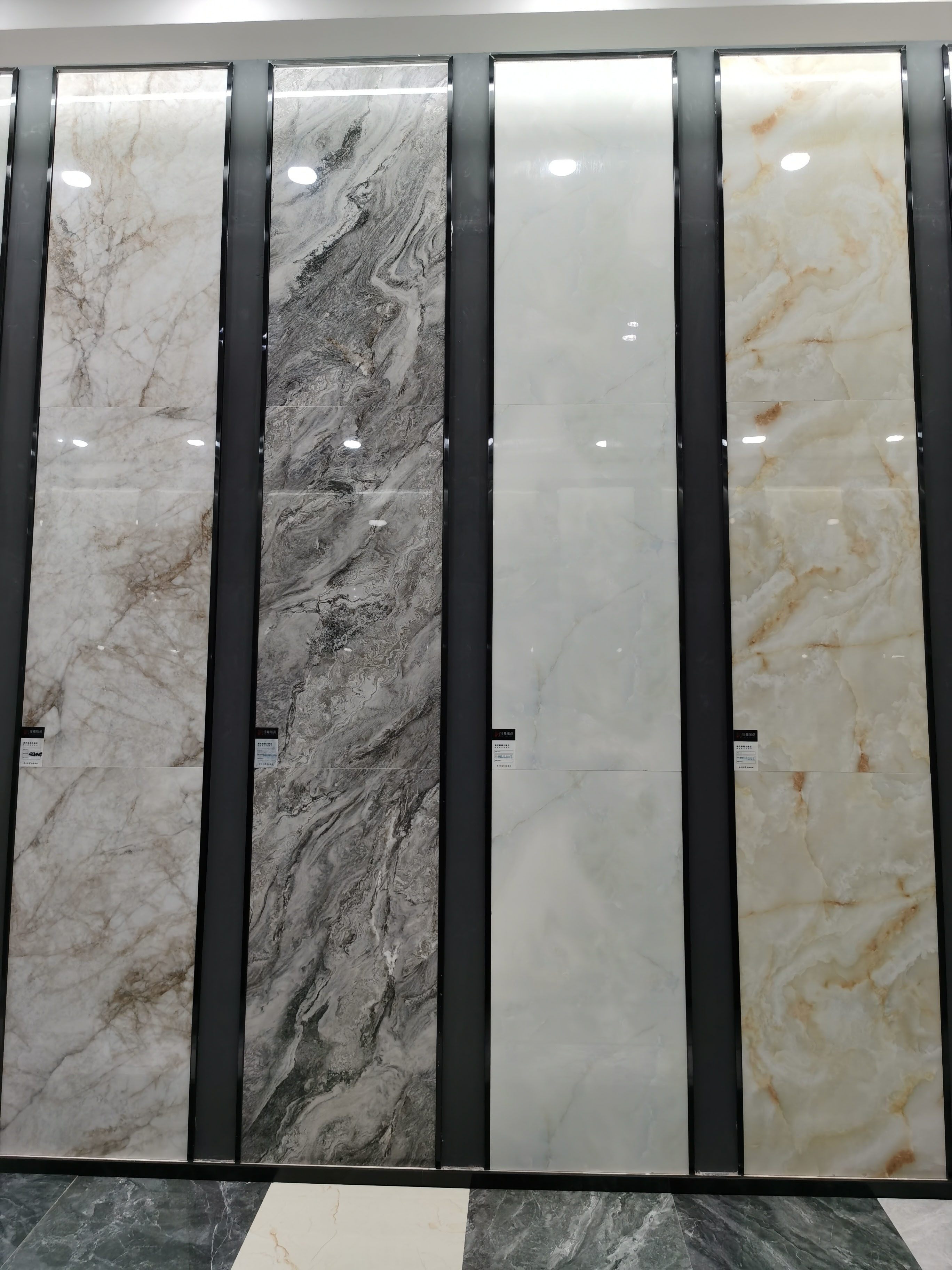 The Aesthetics of Glazed Porcelain Tiles: Colors, Patterns, and Finishes
Glazed porcelain tiles offer an array of colors, patterns, and finishes available in various sizes to suit any aesthetic preference. According to your needs, you can customize your own unique tiles with a comprehensive selection of colors, ranging from subtle earth tones to vibrant designs, and finishes from matte to high-gloss.
The colors of glazed porcelain tiles range significantly, from dark, dramatic hues of black and navy to the lighter shades of creams and beiges. This versatility makes it easy to find tiles to match any desired space. If you want to make a bold statement, opt for a brightly-colored option, such as a vivid teal or fuchsia. Or, if you're looking for a more subtle look, pick a neutral hue like beige or gray.
The diversity of patterns available also contributes to the appeal of glazed porcelain tiles. Depending on your design preferences, you can choose from classic and modern designs, geometric patterns, or organic shapes. The intricate detail of these patterns can add texture and contrast to a space.
Finally, there are several different types of finishes available for glazed porcelain tiles. The glossy finish provides an elegant look, while matte finishes create a softer, more muted feel. The newer, high-gloss finishes give off a shine that brings out the subtle colors embedded within the tiles, while still providing a subtle sheen.
Glazed porcelain tiles offer an array of colors, patterns, and finishes to choose from. With a variety of size options, it's easy to find the perfect set to bring your signature style to your floors or walls.
Comparing Glazed Porcelain Tiles with Other Flooring Options
Glazed porcelain tiles are often a perfect choice for both indoor and outdoor flooring. This flooring option is heat, scratch, and slip-resistant, and offers an elegant look that can be both contemporary or classic. This material stands out when compared to other flooring options such as carpets, rugs, wood, and laminate.
Carpets may be the most comfortable choice but they are difficult to keep clean and can accumulate dirt and dust over time. They can also be susceptible to water damage and fading from UV light. Rugs are similar to carpets but are more susceptible to water.
Wooden floors, on the other hand, require a lot of upkeep and maintenance since they are easily scratched, chipped, and stained. They also require a lot of sealing and refinishing to keep them looking their best.
Laminate is cheaper and resistant to stains and scratches, but it is not as durable as porcelain or wood, and it can easily fade in the presence of sunlight.
Glazed porcelain tiles are more resistant to wear and tear than all the above options. They are also waterproof and require very little maintenance. They come in a variety of shapes, sizes, and colors so you can create a unique look in any room. Additionally, they can be used indoors or out and will retain their color and shine for many years to come.
Understanding the Durability and Longevity of Glazed Porcelain Tiles
Glazed porcelain tiles are becoming increasingly popular due to their versatile blend of aesthetics, waterproof capabilities, and durability. With one of the hardest wearing materials available, these tiles are suitable for a variety of applications both indoors and out. To understand the durability of glazed porcelain tiles, one must consider a variety of factors including the production process, the materials used, and individual routine maintenance habits of the homeowner.
First and foremost, it is important to comprehend how glazed tiles are produced. Originally, glazed porcelain tiles were made by adding a layer of liquid glass on top of the clay used to make the tile. This process is called vitrification. Today, glazed porcelain tiles are still fabricated this way, but newer, advanced techniques result in tiles with excellent water resistance, low porosity, and a higher ware-hardness than traditional stoneware tiles. This production process ensures that the tile is strong and designed to last.
The materials used to craft these tiles are also of utmost importance. Glazed porcelain tiles are composed of clay and feldspar, and are equipped with a glaze comprised of silica, alumina, and other minerals. This combination of durable materials creates a product that is highly resistant to wear and tear over long periods of time. These materials are also abundant and easy to source, making them a cost-effective choice for homeowners looking for a long-lasting tile.
Finally, it is essential to consider routine maintenance habits of the homeowner. With proper cleaning and care, glazed porcelain tiles can last for decades. A simple cleaning with hot water and mild detergent should be done routinely to keep the tiles looking their best. Additionally, applying a sealant to the tile periodically can help prevent staining and provide extra protection. All in all, with proper care and maintenance, glazed porcelain tiles can provide a long-lasting, durable solution for a variety of applications.
Innovations in Glazed Porcelain Tile Technology for Modern Living
Glazed porcelain tile is a popular flooring solution that not only provides a long-lasting, maintenance-free finish to any space, but is also known for its unique style. Thanks to advances in the tile technology over the past few years, glazed porcelain tile has grown increasingly popular among homeowners and interior designers. The following innovations make this tile an ideal choice for modern living.
First, innovative technology has allowed glazed porcelain tile to be produced in a variety of different styles and shapes. From traditional rectangular tiles to intricate mosaic designs, glazed porcelain tile now comes in a range of sizes and shapes to provide the perfect look for any space. In addition, glazed porcelain tile can be finished in a variety of different finishes and colors, making it incredibly versatile.
Second, glazed porcelain tile is made from a strong, durable material that is incredibly resistant to wear and tear. This makes it an ideal choice for high traffic areas such as kitchens and bathrooms, as it can withstand regular use without showing signs of wear and tear. Glazed porcelain tile has a water absorption rate of less than one percent, which makes it perfect for moist areas such as showers and pools.
Third, the latest glazed porcelain tile technology has made it possible to produce tiles with a variety of texturing options. From glossy finishes to matte textures, glazed porcelain tiles now come in a variety of textures that can easily be matched to the overall decor of any space.
These three innovations in glazed porcelain tile technology make it an ideal choice for modern living. Not only is it a durable and attractive choice for all types of spaces, but its versatility and range of finishes and textures make it perfect for adding a touch of style and class to any room.
---